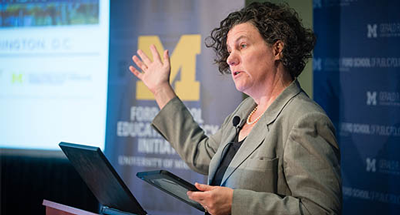 Wednesday, December 12, 2018
ANN ARBOR—High-achieving, low-income students who received personalized commitment of financial aid are more than twice as likely to apply, be admitted to and enroll in a top-tier university, according to a new University of Michigan study.
Research by Susan Dynarski, U-M professor of public policy, education and economics, and colleagues found that with this early commitment of aid, high school students were twice as likely to apply to U-M (67 percent compared to 26 percent) and twice as likely to enroll (26 percent compared to 12 percent).
"Students typically find out about financial aid far too late for it to affect their application choices," Dynarski said. "Our unconditional, early commitment of four years of free tuition and fees assured students and their families that University of Michigan is within their reach."

November 27, 2018
LANSING – The Michigan Department of Education (MDE) is part of a unique new government-university collaboration over research projects designed to improve performance at K-12 public schools statewide.
Announced today, the partnership called Michigan Education Research Institute (MERI) includes the Center for Educational Performance and Information (CEPI), the state agency responsible for reporting educational data; and the state's two top research institutions: Michigan State University (MSU); and University of Michigan (U-M), as well as its data center.
MERI's goals are to facilitate research projects in education, make data accessible, and improve education for Michigan's students – outcomes pleasing to MDE and CEPI leaders.